Quick Fact
Coves are the hollows between ridges, often covered in dense forests, rich in biodiversity.
Discover Wonders of Appalachia in Untouched "Lost Coves"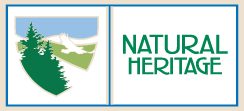 "Lost coves," common in parts of these mountains, may refer to either the botanical or cultural wonderlands of our Appalachian forests.  These isolated inlets or "coves," as the mountain people call them, are places whose natural history may be characterized by dense tree canopies and ideal growing conditions. Undisturbed by the early timber companies and left to nature, many of these have developed into pockets rich in biodiversity and rich in legend as well.
Such is the case with Lost Cove Cliffs overlook, near Linville, NC, which is a favorite viewing spot for people hoping to catch a glimpse of a lost cove legend, the mysterious and elusive Brown Mountain Lights.
Today, the Lost Cove Cliffs area is a favorite destination for hikers, because of the incredible landscape afforded through the chestnut oak forests, some of enormous proportions.  What mix of tree species or legends from an untouched place awaits you in one of these classic "lost coves?"

The Blue Ridge Heritage Trail is a program of the Blue Ridge National Heritage Area Partnership.