Quick Fact
The closing scene from the 1990 blockbuster movie Last of the Mohicans was shot at the summit of Table Rock.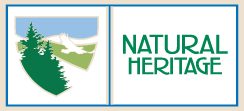 The views are breathtaking! From 1,500 feet above the Linville River you can hear its mighty roar.  Tagged as " The Grand Canyon of the East," Linville Gorge is one of the wildest, most rugged places in the eastern United States. The gorge is ringed by a series of tall peaks including Gingercake, Hawksbill, Table Rock, The Chimneys, and Shortoff mountains.  Elevations range from about 1,300 feet above sea level near the Linville River to 4,120 feet at Gingercake Mountain.
A Wilderness Area since 1964, the Gorge's 11,786 acres are managed to preserve its unique natural ecosystems and wilderness character.  Being a "Wilderness," the recreation experience is primitive, where visitors are faced with the challenge of being entirely self-sufficient during their stay.  Signage and trail blazes are minimal, and there are no shelters, campgrounds, water spigots or restrooms. Once you enter the Wilderness, you must travel by foot because no motorized vehicles are allowed.
Permits are required to camp in the Gorge on weekends (Friday and Saturday) and on holidays from May 1 through Oct. 31.  Hunting and fishing are allowed but state licenses are required.  Groups are limited to 10 people.
From May to October, find helpful information and restrooms at the Linville Gorge Cabin.  To get there, head north on State Route (SR) 181; turn left onto SR 183.  Turn left onto SR 1238 (Kistler Memorial Highway) and drive ¾ mile to the cabin or 5 miles to the Wiseman's View handicapped accessible path down to 2 observation points that peer directly down into the heart of the Gorge.

The Blue Ridge Heritage Trail is a program of the Blue Ridge National Heritage Area Partnership.